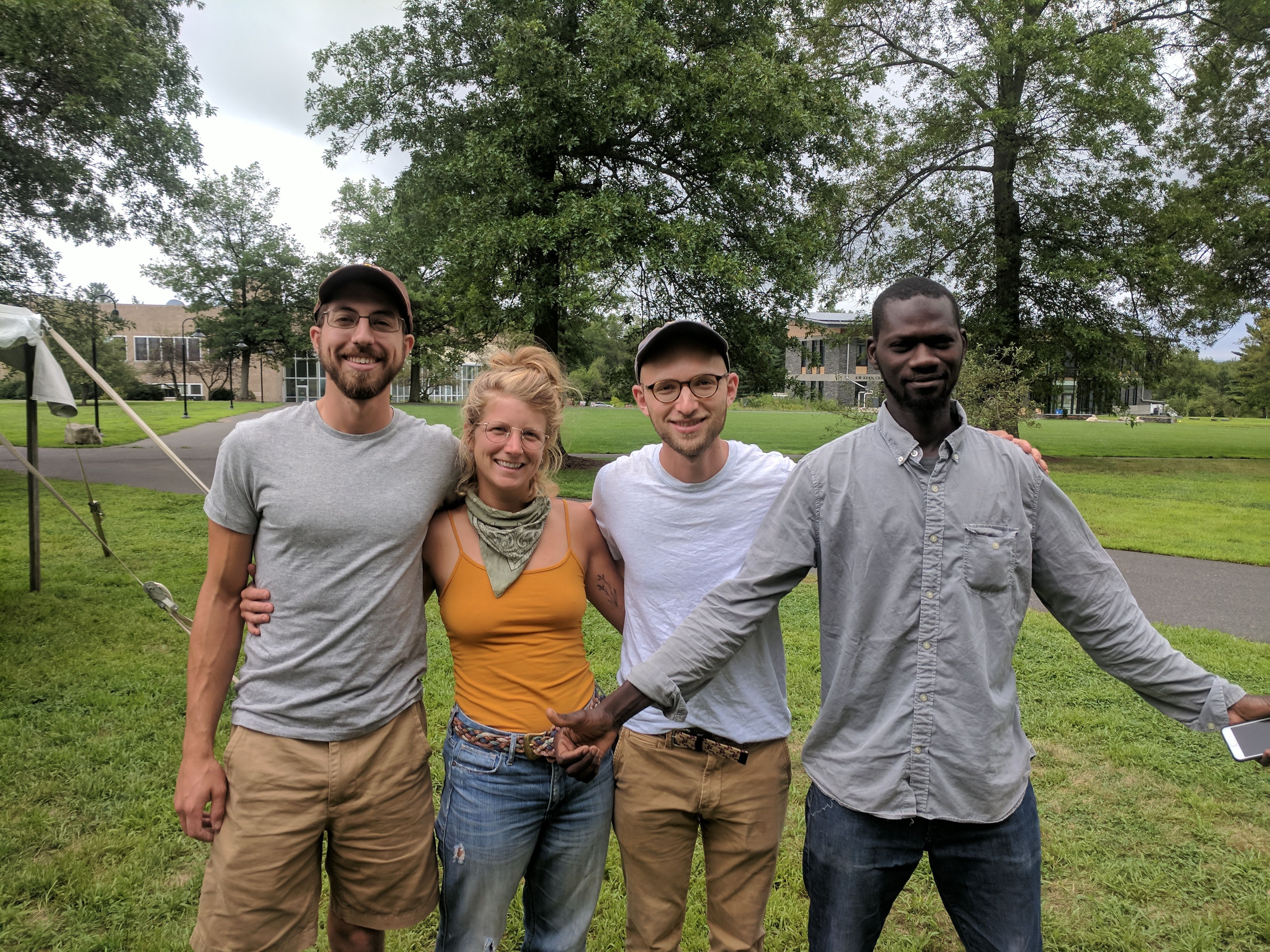 Each year, we send our farm apprentices to the Northeast Organic Farming Association's (NOFA) Summer Conference at Hampshire College in Amherst, Massachusetts in August. This is a pivotal part of their development and training as young farmers, allowing them to network with growers and practitioners far beyond our home farm's boundaries.  We asked our four apprentices to share highlights of their learnings at this dynamic educational experience.
Sam Devine (2nd year Vegetable Production Apprentice):                                                                     This was my second time driving up to Amherst, MA, to attend the NOFA summer conference. Last year I was eager to shore up my basics - as a first year vegetable production apprentice - and so my theme was "practicality." I chose sessions that directly addressed core topics of our day-to-day at Glynwood: things like cover cropping, winter crop storage, and no-till vegetable systems. I found however that the 1.5 hour sessions are usually not enough to get deeper than a survey of the topic at hand, and so this year my strategy was to seek out topics that I don't know much about and hope to emerge with a basic understanding and a list of resources for further reading or research. I found this approach to be very rewarding, like getting a foot in several doors - just enough information to be inspired to dig deeper on topics including seed saving, small apple orchards, static aerated composting, and cut flower production. I came away from the weekend with a lot of notes and additions to my reading list!
Leslie Lewis (Vegetable Production Apprentice):                                                                                   I am so grateful to have been in attendance at the NOFA Conference this summer. As the season has been in full swing, I didn't have much time before the conference to review the programming. However, on the Thursday before our departure I managed a moment to glance it over.  I surprised (and thrilled!) to see the "Food and Social Justice" track focusing on food systems in the Industrial Prison Complex. Seeing this, I felt the universe smiling on me. Over the past few years I have been researching and developing a vision for my future that combines my passion for farming and food with social justice and prison reform/abolition. Attending the workshops in this track re-lit my fire. I connected with great mentors and potential partners for moving my dream forward. My eyes were opened to the reality of making things happen by seeing the success of similar programming that already exists. Some being, The Westchester County Food Bank, Franklin County Correctional Jail-to-Farm program, Just Roots Community Farm, and HSNY Rikers Island Program. I"m looking forward to following-up with the people I met, forging new partnerships and spreading the ideas of this work in the Hudson Valley.
Anthony Post (Vegetable Production Apprentice):                                                                                  The 2018 NOFA summer conference is the first NOFA conference I have ever been to.  After a couple of my chosen sessions were cancelled, I discovered two workshops that became my favorites of the conference: "Get Connected: Learn to Graft Melons & Tomatoes" and "Summer Mushroom Season in Massachusetts". Although we grafted tomatoes earlier this year at Glynwood, the melon grafting was new for me and is surprisingly different. After attending this workshop, I feel confident that I could get good success rates from grafting melons. The other workshop contained good amounts of beginner knowledge on mushroom identification and mushroom cuisine. I had no previous knowledge of mushrooms, and because of the workshop, I'm inspired to learn more. As luck would have it, my alternative choices for these workshop time slots were cancelled, but for that I'm grateful because I would have missed out on interesting topics about which I know little.
Kama Doucoure (Livestock Apprentice):                                                                                                   I was very happy to have attended the conference; I learned a lot. Everything was well organized. Some highlights were workshops on Icelandic Sheep and Raising Sheep Organically. I learned new options for the organic treatment of parasites in sheep. One farmer shared a method that uses a garlic tincture instead of dewormer. The farmer clips his pasture and sprays a garlic tincture directly on pastures to control parasites. The farmer also keeps animals indoors when it is cooler and lets them graze only when the sun comes out and parasites are less active. Another farmer shared some insights on animal behavior: if you don't lead your animals, they will pick their own leader. Understanding animal behavior patterns reduces stress on farmer and herd, and improves productivity, safety and welfare. If you want to change cattle behavior, you have to modify your own behavior.