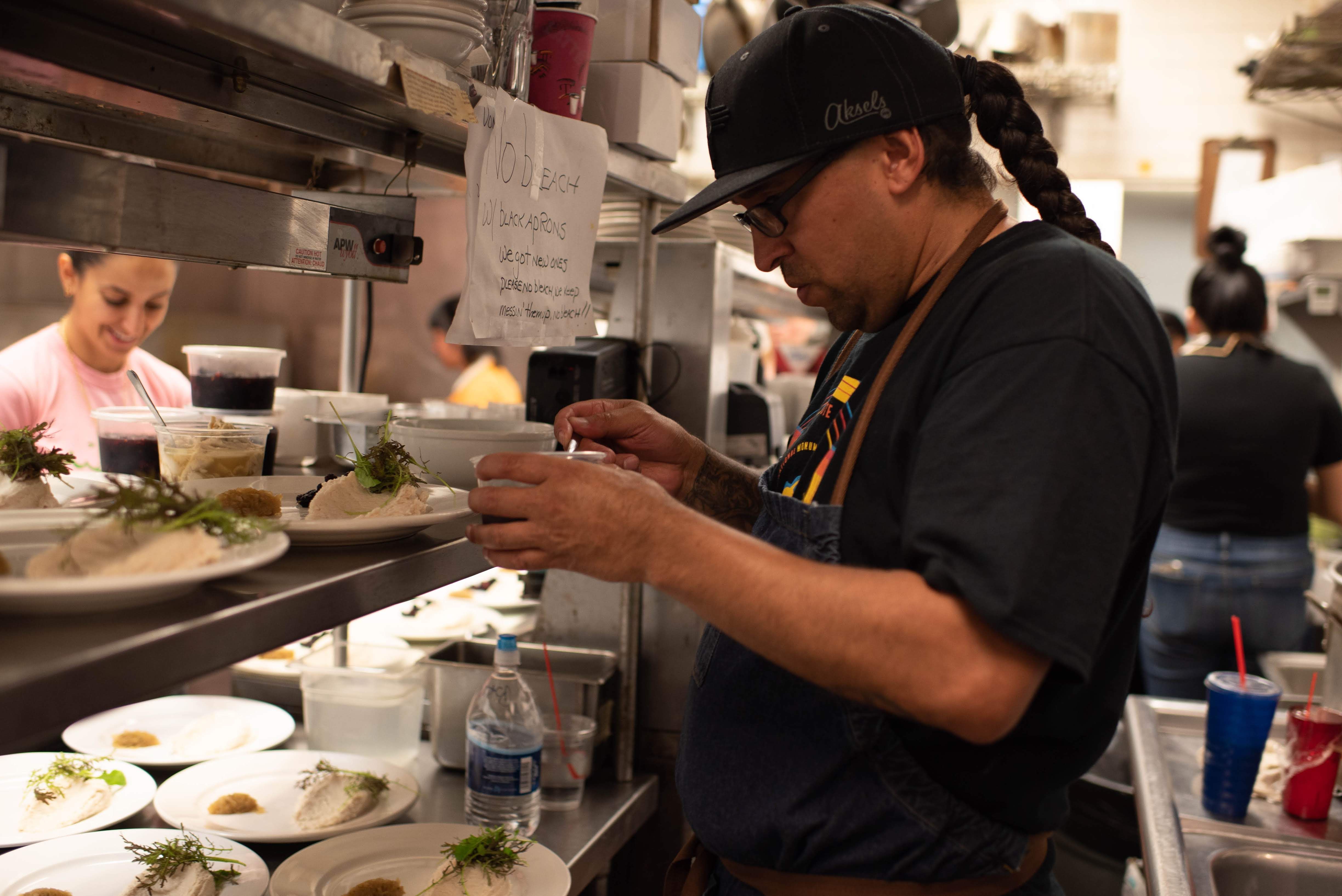 The tables at Detroit's Cass Cafe were set for the impending dinner rush, but the hungry crowd outside weren't the usual Wayne State students and the menu wasn't the usual fare. The kitchen that weekend had been taken over by the Dream Cafe, an exciting new addition to the 20th edition of the Allied Media Conference. This series of pop-up meals was the culmination of a vision that Ora Wise shared at Glynwood's speaker series this past Spring: to reflect the socially conscious, inclusive, challenging and forward looking spirit of the AMC by making the food there as meaningful and nourishing as the rest of the programming.
Over 2,500 people of every shape, size, color, and background descended on Detroit for this year's AMC. They come to recharge their batteries, to learn new techniques for achieving transformative social change, to be inspired by the incredible creativity and resilience of Detroiters, and to enjoy themselves. The Dream Cafe was a remarkable example of enjoyment with purpose.
I brushed off my waitress skills, and pitched in for one night of dinner service. Courses included tepary bean dip, cactus salad with fresh strawberries, sunchoke soup, and blue cornmeal pudding with honey. The common theme? All of these ingredients are indigenous to North America, as are the chefs who had prepared them. Chefs Kristina Stanley and M. Karlos Baka's pre-colonial menu represented the I-Collective, a group of indigenous chefs who celebrate the contribution and resilience of their communities through the arts of food and agriculture. It was an honor and a pleasure to bring their food to the eaters who gathered that night.
The evening concluded with a dishwashing brigade of volunteers crowded in the hot kitchen, making new friends, and sharing the remaining bites of delicious food. Tasting flavors that had been cultivated and cherished by diverse cultures on this continent long before colonization and successive waves of immigration brought the peoples and food that are integral to our country today reminded me that while change is inevitable, destruction is not - not, at least, if we work together.
My thinking was reinforced the next morning as I toured a cooperatively run shoe factory and an urban farm with free neighborhood wifi. I left the AMC inspired to look for the spaces where growth is possible rather than staring at the gaps left by extractive consumption, to enrich the fertile creativity of our communities by practicing hope rather than diminishing it with pessimism. It's a long way to the future imagined at the AMC, with a lot of hard work between here and there, but as a poet friend of mine wrote: "you tell me how sitting on our asses will ever keep us rooted or even fed."