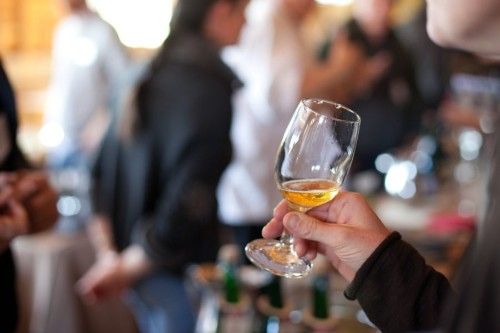 June sings songs of cider to us here at Glynwood: from our flagship regional celebration of this versatile craft beverage — Cider Week Hudson Valley — to the blossoming of the apples that will fill next year's bottles, we've got cider on the brain this month. But even back in the wilds of February, cider was heating up.
That month, Glynwood and the New York Cider Association hosted a session for NY apple growers introducing them to the science of flavor from Cornell Extension Educator Chris Gerling and a tasting of three flights of cider guided by Cornell Professor Emeritus/Black Diamond Cidery grower-producer Ian Merwin. Overall feedback was resoundingly positive with one attendee noting that he drove 12 hours and felt very confident that it was a worthwhile investment of time. Attendees were inspired to attend future NYCA events for growers and to recommend the grower events to their colleagues.
The apple growers who participated said that their knowledge of what cider is and how cider fruit creates complexity in fermentation was expanded. One participant noted, "I get what's different about cider made with the older varieties now; I didn't really get that before." There was also an appreciation for Gerling's overview of flavor chemistry, "showing the hard science of taste-testing."
For future gatherings, we hope to be able to work with NYCA to give apple growers specific guidance about "how to ride the cider wave," and even provide notes on the suitability, utility, challenges, and average statewide price-per-bin paid for a selection of processing varieties and scarce/sought cider apples. Economic data like this would help growers determine whether to diversify their variety selections, to make cider themselves, or even to provide juice to cideries: all of which would be a win for the rapidly growing craft cider industry regionally and state-wide.
To get involved and support the cider industry in New York State, participate in Hudson Valley Cider Week from June 8 to June 17 – visit www.ciderweekhv.com to learn more!