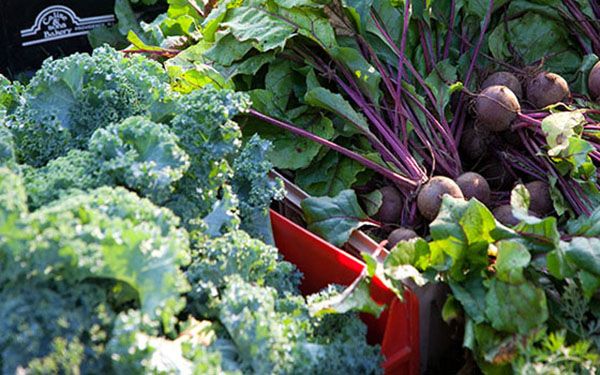 In addition to being Glynwood's vegetable farmer I serve on the Hudson Valley CSA Coalition Leadership Committee, and if you have spent anytime on social media the last few weeks you may have caught our "Consume Something Awesome" CSA signup campaign. The Hudson Valley CSA Coalition was formed in 2016 as an outgrowth of meetings between CSA farmers concerned about the increasing difficulty we have had selling CSA shares. In many ways CSA farmers have been a victim of their own success. As the popularity of organic and local food continues to grow, consumers can find local produce on the shelves of supermarkets or get them through boxed delivery services like Blue Apron instead of their local CSA. One of the main focuses for the HVCSA Coalition is collective marketing. As much as my fellow farmers and I know about growing produce, we often know just as little about marketing – though it can be just as integral to our success. Many CSA farms are also small businesses that simply lack the resources to reach many consumers. By banding together as a Coalition, with critical technical and financial support from Glynwood, CSA farmers have been able to get help from marketing professionals, and collectively spread the word throughout the Hudson Valley about the benefits of being a CSA member.
The HVCSA Coalition has created a web directory of CSA farms in the Hudson Valley (hudsonvalleycsa.org), and has marketed CSA shares through several avenues including CSA fairs, magazine ads, and now the Consume Something Awesome CSA signup campaign (there are many fun acronyms that can be made with the letters CSA). I love farming for a CSA because of the opportunity to connect with members of my community who are directly appreciating the fruits of my labor. And the signup campaign tries to channel that feeling of making an authentic connection with the person who passionately grows your food. Each week features profiles of different farms within the Coalition, which range widely in size, location and product (vegetable, meat, herb, flower). Farmers, and CSA members, are also featured in videos produced for the signup campaign about why we all love CSA (you can check one out here) — with cameos by everyone's favorite Glynwood vegetable farmer (I'm definitely going to stick to farming).
Ultimately, the best advertising for CSA is through our members by word-of-mouth, and a large segment of the population in the Hudson Valley are still not even aware of the existence of CSA farms. Social media provides the perfect medium for spreading your experiences with a CSA so please join us for the signup campaign and follow us at #HVCSA or #ConsumeSomethingAwesome.