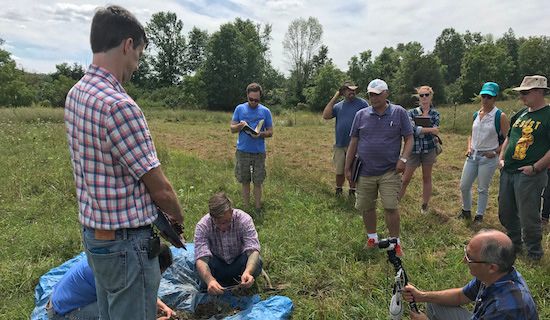 Glynwood hosted a Soil Intensive for an audience of twenty-five regional farmers on March 23rd. The Intensive was less workshop-oriented and instead emphasized farmer-to-farmer exchange on a handful of subtopics in soils.
In late 2017, Glynwood staff had some internal conversation about hosting a soil convening, but we wanted to be sure that we would attract the right audience of regional producers. Over the next several months, I made a lot of calls to managers, new and experienced, to see what would get them in the door for a soils convening. The farmers were clear: there were some common interests in soils and we identified a handful of topics, but mostly they wanted time for farmer-to-farmer exchange, so they could share and learn from their peers.
I invited an audience which included a mix of new farmers, new managers and experienced managers to join us for the Soil Intensive. I refined the list of topics and identified a handful of prospective presenters to share brief overviews that would serve to kick-off lightly facilitated exchange on the subjects of interest.
Jean-Paul Courtens of Roxbury Farm gave a welcoming address that demystified biodynamic farming. Jean-Paul explained how microorganisms are disrupted through tillage and examined the questions of how we get to a system that avoids tillage and brings carbon and integrity to the farming system.
Ethan Grundberg of Cornell Cooperative Extension shared details about macronutrient cycles in reduced tillage systems. He detailed recent research supervised by Ryan Maher of the Cornell Small Farms Program that has been investigating the management of cover crop residues with the use of tarps. The farmer-to-farmer exchange on the use of tarps demonstrated a lot of collective knowledge about tarp types, management and impacts.
Bryan O'Hara provided a fascinating overview of the no-till systems used at Tobacco Road Farm. His systems emphasize fertility trialing, and fine-tuned compost recipes, foliar feeding and biological inoculants to stimulate healthy crop production.
Leon Vehaba explained the challenges of fertility management in high tunnel production. A high tunnel is a covered structure used for production of high value crops like tomatoes. With limited crop rotations and no rainfall to 'flush' the soils of excess salts, special attention to mineral balance must be used. The exchange produced further insights into management options.
Jack Algiere explained the genesis of the perennial rotations employed at Stone Barns over the past six years. A rotation of grain, clover, annual crops and perennial grasses has been used, building soil health and promoting great production in each phase of the rotation.
Crystal Stewart facilitated a summary discussion to probe what farmers learned at the Intensive and what new methods they planned to explore on their farms. There was a lot of enthusiasm and creativity in the room, as farmers shared ideas.
As I reflect on the event, the farmer-to-farmer format was a great choice for a quality learning experience. The differential in their collective experience of the audience helped spur questions and insights. Clearly, Hudson Valley farmers have a lot to share with one another. Glynwood will continue to create opportunities ways to foster meaningful exchange and strengthen regional producer networks.