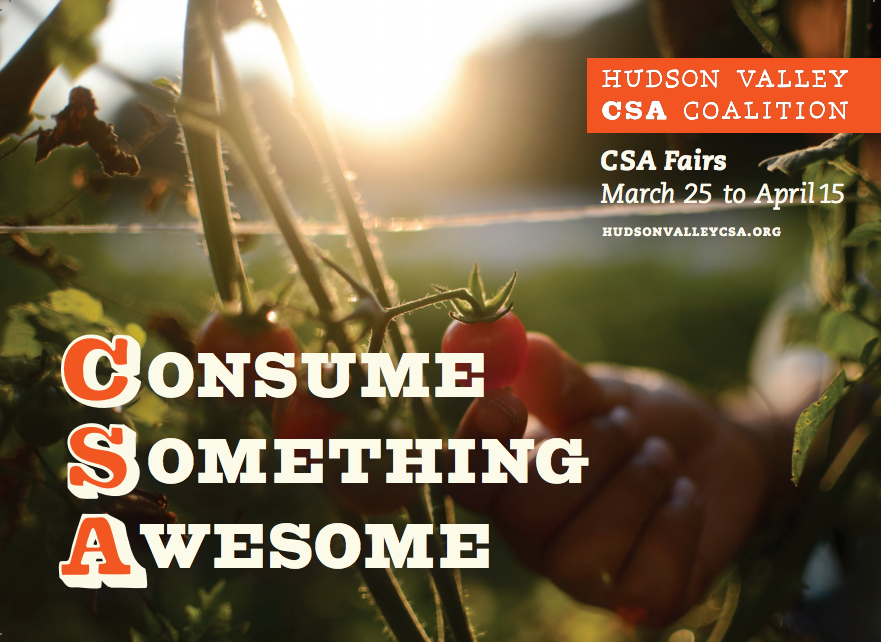 Though the fields are blanketed in snow, Hudson Valley farmers are busy getting ready for the harvests that are just around the corner. One of the best ways to ensure a steady stream of farm-fresh bounty in your own home is to join a CSA. If you're new to the idea of Community Supported Agriculture, and want to find the perfect farm for you, then don't miss the Hudson Valley CSA Coalition's upcoming CSA Fairs.
At a CSA Fair you will learn how vital Community Supported Agriculture is to independent farms and have the chance to shop for a share of your own. CSA farms offer a wide array of wholesome products from vegetables to meat to dairy to flowers and medicinal herbs. By purchasing a share, you become a member of the farm's community and provide crucial financial support at a time when it's most needed and most scarce. The upfront investment CSA members make at the start of the farming season yields rich dividends in delicious food and thriving farms. There will be several local farms at each CSA Fair happy to explain exactly what they offer to their CSA members and to share with you why this model of farming is so valuable and meaningful.
There's also plenty of fun to be had at a CSA Fair. Meet local farmers, munch on just-popped popcorn, and peruse the offerings at the on-site farm store. It's free to attend, but be sure to bring your checkbook so that you can put down a payment on the CSA share that is just right for you. Everyone who signs up for CSA at a Fair is entered into a raffle to win gift certificates from local businesses.
Mark your calendar for a CSA Fair near you!
HUDSON: 3/25, 1-4 PM, Hudson Area Library, 51 N 5th St , Hudson, NY 12534
BEACON: 3/29, 5-8 PM, Hudson Valley Brewery, 2 Churchill St, Beacon, NY 12508
KINGSTON: 3/31, 11-2 PM, Old Dutch Church, 272 Wall St, Kingston, NY 12401
MILLERTON: 4/7, 1-3 PM, Millerton Library, 75 Main St, Millerton, NY 12546
TROY: 4/12, 5-8 PM, Lucas Confectionary, 12 2nd St, Troy, NY 12180
RHINEBECK: 4/15, 11-2 PM, Rhinebeck Town Hall, 80 East Market Street, Rhinebeck, NY 12572
The CSA Fairs are hosted by the Hudson Valley CSA Coalition, which is a farmer-led collaboration facilitated by Glynwood. If you can't make it to one of the Coalition's CSA Fairs, you can still find your perfect CSA share by visiting the Coalition's online directory.
Learn more about the project and its aim to increase and diversify CSA membership throughout the region at www.hudsonvalleycsa.org and follow the Coalition on Facebook and Instagram to show your support for independent farms across the Hudson Valley!