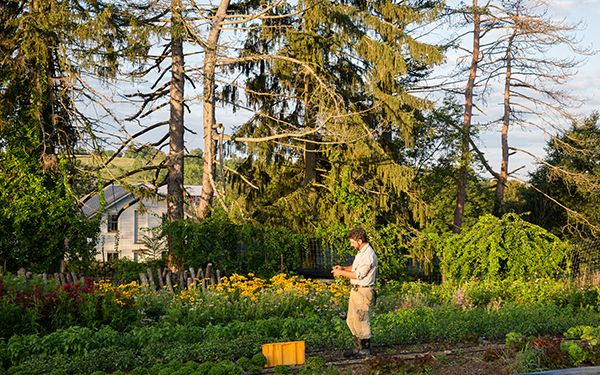 The Glynwood you know has two well-developed enterprises in its livestock and vegetable operations. We plan to add agroforestry to the mix, but not before leaning on our network for expertise and evaluating our land use strategy to ensure the success of new enterprises.
Agroforestry is the cultivation or conservation of trees in an agricultural system. Agroforestry is not a singular enterprise or even a handful of them, but a set of interdependent land management strategies. We seek high ecosystem function at Glynwood. We aim to improve drainage and water infiltration, soil health, habitat, while minimizing erosion, adding windbreaks, and sequestering carbon. We want to create new enterprises to model for our apprentices. The models will be viable – culturally, ecologically, and environmentally — and transparent. It is our intention that in creating an opportunity for training in agroforestry, will will also help agroforestry gain traction in the Hudson Valley.
On February 12th, we convened an impressive cast — experts in ecology, forestry, orcharding, permaculture and agriculture for an agroforestry meeting to help us consider the options appropriate to our property:
Connor Stedman (AppleSeed Permaculture)
Jared Woodcock (Timberdoodle Horse Logging)
Kevin Maher (Taproots Farm)
Dan Carr (Q Farms)
Harry Greene (Propagate Ventures)
Laura Perkins (Stone Barns Center for Food & Agriculture)
John-Erik Kocho-Schellenberg (Cornell Cooperative Extension, Orange County)
Kyle Webster (New York State Parks; Ganondagan)
Hugh Bail (Threshold Farm)
Prior to the meeting, former livestock apprentice, Jen Ghigiarelli, shared details about Glynwood's soils, annual rainfall, hardiness zone, elevation and habitats with our guests. Upon the arrival of our guests for the meeting, Zach Wolf, Glynwood Director of Farm Programs and I led them on a site walk for a close look at our varied terrain, drainage trouble-spots and fields with potential for adapted use. The walk informed a lively exchange and rich advice for how to advance our agroforestry interests.
The group encouraged a process of identifying a handful of questions to answer about the property and its functions, and to let those questions guide our outcomes. Our expert friends stressed the importance of capturing appropriate baseline data and tracking changes to productivity, habitat and hydrology. Hugh Bail noted that the movement of water downslope through keyline management will play into how the trees are able to flourish on a property like ours. (Keyline design refers to a method of managing the way water flows through the land.)
Our guests noted three distinct features on the landscape: open pasture, forest edge and wet brushland areas. The open pasture, some areas totalling more than 25 acres, is a vital habitat for grassland bird species. There are not a lot of open fields of size in our area. We were encouraged to leave these areas open, as tree plantings will discourage the birds. There are smaller fields that could be appropriate for tree plantings, perhaps a small nursery area. The forest edge does not provide a lot of opportunity because new plantings would make the open fields more narrow, again a poor option for the grassland bird habitat. The wet brushland areas could work for species that tolerate wet conditions. We would be limited to species that could be harvested by animals, as the wet conditions would not work for mechanized harvest. We may consider improving the brushy habitat and replacing the few trees that are used as perches by birds.
Some species that were identified as having good prospects on our property include:
Tree/Shrub crops (fruit or nut harvest)
Apples, peaches, pears, plums
Cider varieties
Chestnut
Paw paw
Elders
Black locust
Black walnut (timber)
White oak (timber)
Poplar (timber)
Woody species in pasture – support species for crops
Honey locust
Persimmon
Black locust
Hazel
Elder
Mulberry
Serviceberry
Willow
Lilac
Productive habitat – ecological
Elders
American plum
Viburnum
Willows
Red osier dogwood
Hazels
Swamp white oak
Burr oak
In order for tree species to establish and thrive, we will need to rethink aspects of the farm and its use, such as where and how we situate and use farm roads, and use of keyline design to mitigate the hydrology on our slopes. We will stage these designs into our timeline. These are important first steps to ensuring that our investment is sound.
As we learn which species are best supported by our landscape, we have an opportunity to improve upon and be a source for local genetics and cultural information. There is much to consider, but a native plant nursery could be a useful service for our region. We look forward to advancing agroforestry at Glynwood, continuing the collaborative dialog with colleagues and partners to advance this work.
I would like to acknowledge former livestock apprentice, Jen Ghigiarelli, who was instrumental in planning, coordinating, information packet assembling and notetaking for this event.
Dave Llewellyn is Glynwood's Director of Farm Stewardship, where he ensures that our farming efforts reflect the highest standards in resilient, regenerative practices.