New farm staff help ready the farm for the season
Returning Farm Managers Nicole Scott and Jarret Nelson expand their full-time team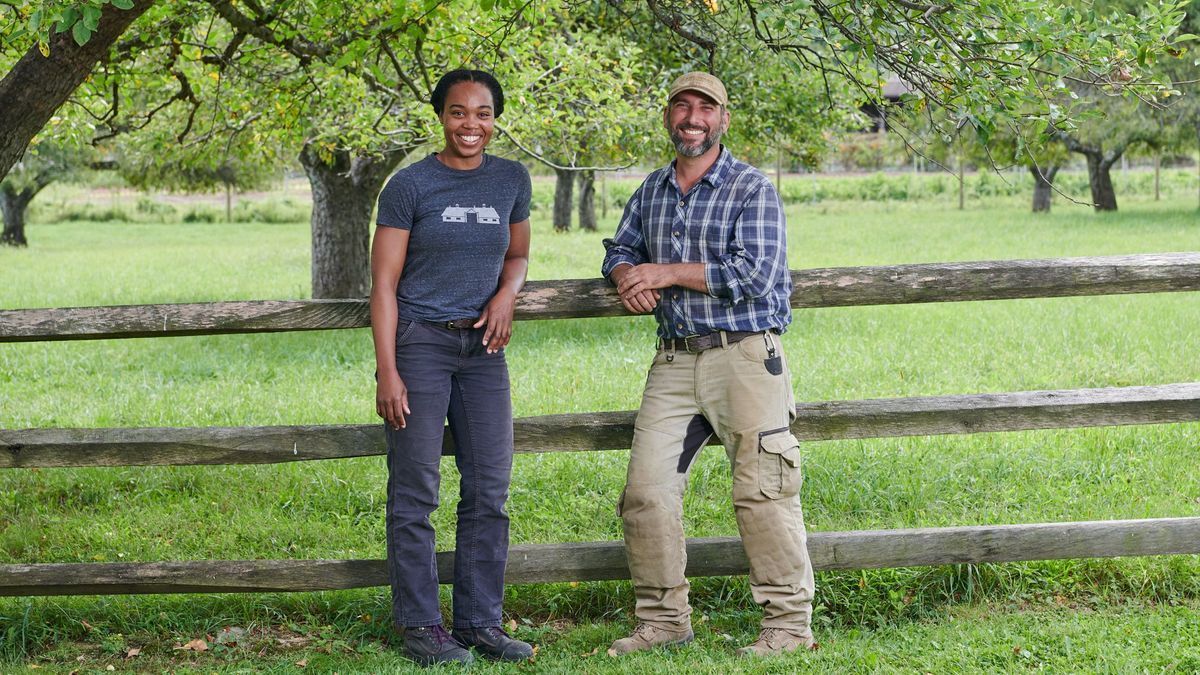 With spring approaching, the Glynwood family is growing by a few new full-time, farm-focused team members. Working together with Glynwood's Farm Managers, pictured above -- Nicole Scott (Farm Manager, Livestock) and Jarret Nelson (Farm Manager, Vegetable Operation) -- this intrepid bunch will help ready the way for our incoming cohort of apprentices, implement exciting improvements on the farm and help build relationships with our wonderful community of CSA members and farm store customers.   
Matthew Ball, Field Operator

Megan Fimbel, Livestock Farmhand
Matthew Ball joined Glynwood as a Field Operator in February. He is responsible for farm infrastructure upkeep and will work closely with the rest of the farm crew to build healthy soil and grow healthy food. Matthew has worked in agriculture, forestry, and construction over the last decade while living mostly in the Hoosic and Hudson River Valleys and surrounding hills. Matthew is grateful to be at home in a region that is at relatively low risk for severe climate change effects in the coming decades. He believes that this is all the more reason to encourage and create resilient social and land systems here, and he is thankful to be part of an organization with this kind of long view. Outside of work, Matthew spends time drawing, swimming, and exploring the woods with his wife and dog. 
Megan Fimbel is our new livestock farm hand; in her role she will be helping take care of both the livestock and pastures at Glynwood. Megan grew up in a small town in Dutchess County, New York, where her passion for agriculture was cultivated by her mother. As a child and teen, Megan was an active member in both 4-H and FFA, raising a small flock of purebred Oxford sheep. Though not all her professional job experience has been in agriculture, her passion for both livestock and farming has always run deep. When she is not surrounded by livestock or farm work, she enjoys photography, listening to music, and spending time on the dock with her adventure-loving corgi named Rune. Megan is excited to be part of the Glynwood team and looks forward to meeting everyone soon.
Leah Garrard, Assistant Manager, Vegetable Operation

Trixie Wessel, Sales and Outreach Manager
Leah Garrard is our new Assistant Vegetable Manager. She grew up in western North Carolina hearing stories from her grandfather about growing up on a diversified farm during the Great Depression. It wasn't until she traveled to the Big Island of Hawaii in her mid-twenties and volunteered on a coffee and macadamia nut farm that she discovered farming as a vocation for herself and a whole new avenue of serving society by growing food was realized. For the past decade, she has worked on a variety of organic farms, mostly focused on small-scale vegetable production. Leah relocated to the Hudson Valley in 2014 because of its vibrant farming community and most recently was the Farm Manager at Common Ground Farm, a nonprofit farm focused on food access and education located near Beacon, NY. She is excited to grow lots of yummy vegetables at Glynwood, as well as foster a positive environment of curiosity, compassion and teamwork among the vegetable crew of apprentices. When she isn't farming, she might be found riding her bicycle, hiking, eating soft-serve, or working on a jigsaw puzzle.
Trixie Wessel  is our new Sales and Outreach Manager, working closely with the farm and development teams to help grow the farm store, promote Glynwood's CSA, and coordinate food donations through local distribution partners. Trixie grew up on and around farms and small communities in northern New York State, witnessing from a young age the power of community around farming and food. She has worked hands-on in production agriculture at organic produce and small-scale dairy farms, and for farm and food policy-focused organizations, including National Family Farm Coalition and National Farmers Union. Trixie obtained her Master's degree in Food and Agriculture Law and Policy from Vermont Law School, in service to her life-long goal of working to preserve small scale agriculture and to build community and awareness around farms and local food systems by strengthening ties between farm, community, and consumer, particularly in rural areas. When she's not at work, Trixie coaches alpine ski racing, enjoys cooking with what's in season, visiting other farms, and spending time with her dog and two farm cats. She looks forward to seeing all of you at the farm store soon!
Stay tuned for intros and profiles of our incoming 2021 apprentices in an upcoming post!