My Kind of Boot Camp
By Kathleen Finlay, President
We first hosted James Beard Foundation's Chefs Boot Camp for Policy and Change in 2013,  just after I came on board as Glynwood's President. The details about how that came about are fuzzy, but I'm sure it had to do with the outrageously infectious ball of energy that is Michel Nischan, with whom I had worked for a number of years before taking up my post here. But, no doubt, the dapper and exquisitely intelligent Mitch Davis was a factor, too.
Regardless, the idea of hosting a bunch of emerging chefs for a few days of communion, learning and activism seemed to me – even in my earliest days of Glynwood – exactly the kind of thing we should be doing. And that sentiment continues as we hosted the Boot Camp this week for the fifth time.
What I didn't know back then is just what kind of communion those chefs and organizers had in mind. Boot Camp originator Eric Kessler's work helping rock musicians become activists led to an assertion that music is a needed ingredient when organizing for social change. A snapshot of that evening from my first, and still only, foray into 'browns' (chef-speak, I learned, for brown alcohol) features this outrageous and gorgeously talented pianist banging away on the keys, Michel on hand drums, changemakers from Oxfam – collaborators on that first camp - and chefs dancing and making up once in a lifetime signature moves (I see you Sarah K). I am pretty sure someone (regrettably) handed me a tambourine.
Frivolity aside, what happened at that first Boot Camp was magic. Chefs came and learned about many of the issues the good food movement is trying to tackle, whether food waste, climate change, sourcing, CAFOs, or human health. One of the most meaningful parts of the programming was the slaughter and processing of an animal on the farm – the first time that many of these educated culinary professionals had experienced the transition of life into food. At the end of their stay, guided by the excellent facilitation aikido of the JBF team, they chose an issue that called to them, that they then owned and felt they could make into action back in their kitchens all over the country. I'm still in touch with many of those chefs from that first Camp. And they are indeed taking action into their everyday work (see below for the full list of chef participants from that first camp).
The platform of bringing engaged professionals together for a few days of learning and then helping them turn the experience into action has been a hallmark of our programming here at Glynwood. It's a formula that works: learning with your peers, guided by veterans and knowledge-holders, honing in on personal action. We are striving to do that with all kinds of audiences, because it takes inspired, motivated and informed folks to make a regional and good food system work.
This year's Boot Camp didn't feature a dance party (that I know about), but 15 chefs are leaving Glynwood energized, supported and eager to help us move an equitable regional food reality into being. Cheers to that.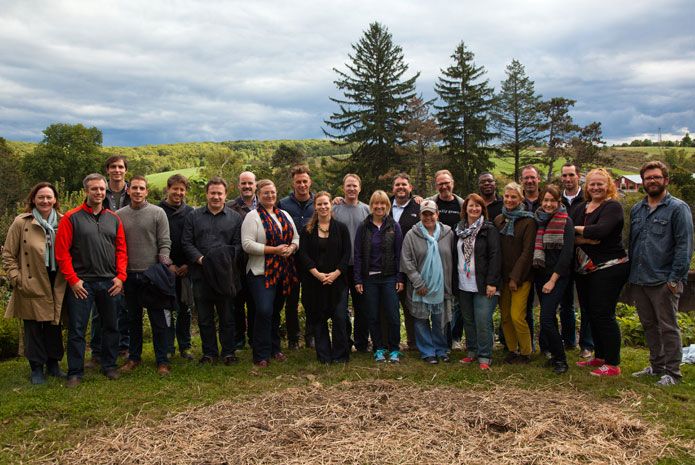 Glynwood's first hosted Chefs Boot Camp took place in 2013. Participating chefs developed their food policy and advocacy skills while learning about Oxfam America's GROW campaign, which brings people together to create solutions for food, fairness, and the future of our planet.
Participants of the 2013 Glynwood Chefs Boot Camp included:
Michael Cimarusti, Providence and Connie and Ted's, Los Angeles
Craig Deihl, Cypress, Charleston, SC
Agnes Devereux, The Village TeaRoom Restaurant & Bakeshop, New Paltz, NY
William Dissen, The Marketplace Restaurant, Asheville, NC
Ben Hall, Russell Street Deli, Detroit
Evan Hanczor, Parish Hall and Egg, Brooklyn, NY
Mathew Jennings, Farmstead, Inc., Providence, RI
Emily Luchetti, Farallon and Waterbar, San Francisco
Dena Marino, MC Kitchen, Miami
Mary Sue Milliken, Border Grill, Los Angeles
Andrea Reusing, Lantern, Chapel Hill, NC
Nick Wallace, Historic King Edward Hotel, Jackson, MS
Jeff Zurofsky, 'wichcraft and Riverpark, NYC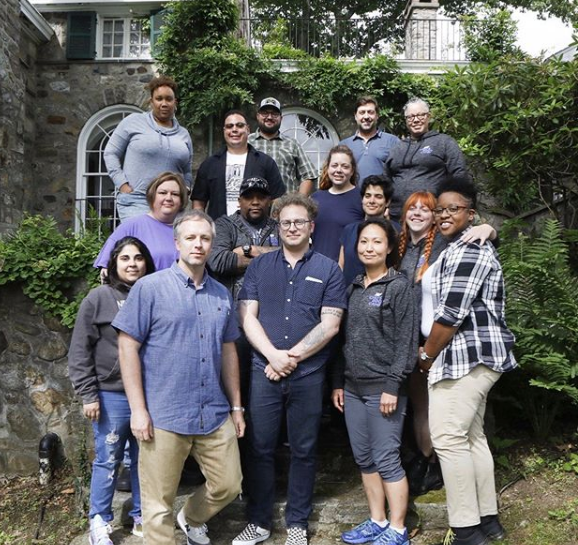 In 2019, participating chefs learned about SNAP, the Farm Bill, and how to be stronger advocates for the needs of their communities.
Participants of the 2019 Glynwood Chefs Boot Camp included:
William Dissen, The Market Place, Asheville NC
Mike Lata, FIG, Charleston, SC
Sean Mendes, Blues Cajun Kitchen
Elle Scott, Test Kitchen, Boston
Saralyn Smith Collingwood, Convivium Urban Farmstead, Bellevue, IA
Brother Luck, Four, Colorado Springs, CA
Cassidee Dabney, Blackberry Farm, Walland TN
Clayton Rollison, Lucky Rooster Kitchen + Bar, Hilton Head Island, SC
Roshni Gurnani, 2009 Chopped Champion, Houston, TX
Joshua Lewin, Juliet, Somerville, MA
Liz Alpern, Gefilteria, New York
Mavis Jay Sanders, Brownsville Culinary Community Center, New York
Nettie Colon, Red Hen Gastrolab, Minneapolis, MN
Ann Kim, Young Joni, Minneapolis, MN
Caitlin Corcoran, Ca Va, Kansas City, MO