Coming up on mid-season: A Local Food for Every Table update
By Glynwood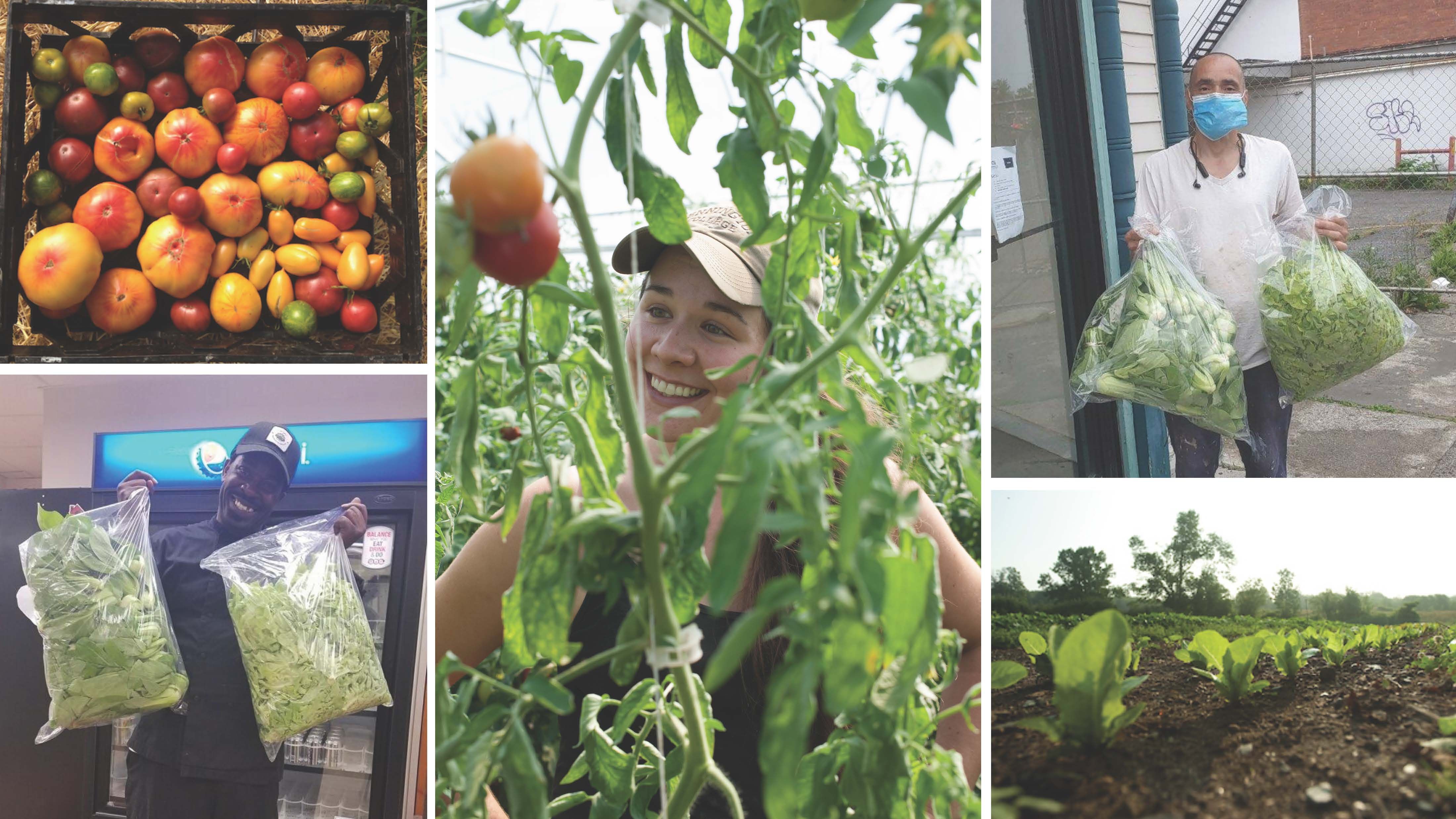 In the wake of COVID-19, thousands of Hudson Valley residents lost their jobs and demand for hunger relief skyrocketed across the region. At the same time, local farms saw increased demand for their products from full price customers, leaving less food to flow into the emergency food system through typical farm donations. It was a perfect storm: those living on the edge of precarity were left unable to access fresh, healthy food, and farmers faced mounting pressures to meet ever increasing demand, all while scrambling to pivot their safety and marketing protocols.  
While COVID has amplified our awareness and the urgency of these issues, disparities and vulnerabilities have long existed in our regional food system. Food donations are important, but only provide short-term relief. To correct the systemic inequities that result in food insecurity will require hard, slow, thoughtful work, which is why -- at the urging of our farm and food access partners -- we recently launched our newest initiative: Local Food for Every Table. Inspired by work catalyzed by the Hudson Valley's own Maggie Cheney of Rock Steady Farm, this initiative aims to build a regional food system with food sovereignty at its core,  so that every Hudson Valley resident, regardless of ZIP code or income, can access farm-fresh, nutrient dense food.
You'll be hearing a lot more about Local Food for Every Table in the coming weeks and months, as it is quickly becoming part of Glynwood's long term strategy.  For now, we wanted to share some of the good work this initiative is facilitating as we head into the height of the growing season, while bracing for a second wave of coronavirus and attendant economic challenges this winter. 
Farm Contracts for Hunger Relief:
Glynwood has contracted ten small- to mid-sized farms that are owned and operated by and/or predominantly serve historically marginalized populations to grow food for hunger relief in their local communities.  Thanks to grants received from The Community Foundations of the Hudson Valley and The Blueprint, Glynwood has paid these farms a total of $17,500 to produce food for hunger relief, and in some cases even helped to facilitate new relationships between the farms and local pantries whose customers are excited to receive such fresh, healthy and local food.  Just a couple selected highlights: 
Three Sisters Farm, a diversified vegetable operation in Kerhonkson that is part of our Farm Business Incubator, received $1,500 to provide herbs and vegetables to the Ulster Immigrant Defense Fund.  
Rock Steady Farm--in collaboration with Chaseholm Farm and Linke Fligl--received a total of $7,500 to provide food to Northeast Community Center's network of ten pantry programs in northeast Dutchess County.  Rock Steady Farm is a graduate of Glynwood's Incubator Program.
Glynwood's Food Access Donations:
Our own farm team has distributed over a ton of food and committed a total of $26,000 worth of food from our farm to our local pantry and food access partners this season.  Half of our food donations have been from our organic vegetable farm, while the other half has been highest-quality Animal Welfare Approved meat from our diversified livestock operation.  Later this summer, Northeast Community Center (NECC) and Dutchess Outreach will each be receiving two whole cows to distribute via their many feeding programs to families facing food insecurity. NECC will additionally receive 800 lbs of Glynwood ground beef to split and distribute among six smaller pantries in Dutchess County.  
CSA is a SNAP: 
With the goal of increasing participation in Hudson Valley Community Supported Agriculture (CSA) by SNAP customers, this innovative program utilizes federal grant funds to capitalize a revolving incentive fund, paying farmers upfront for the full value of their CSA shares while giving SNAP customers the flexibility to pay week-to-week and at a 30% discount. The five farms participating in CSA is a SNAP this season (Glynwood, Poughkeepsie Farm Project, Rock Steady Farm, Second Wind CSA and Solid Ground Farm) are busily building new customer relationships at weekly harvest box sales sites throughout the Valley. Glynwood is selling its harvest boxes in Peekskill every Thursday from 11am-2pm, and is partnering with Hudson River Health Care Peekskill to ensure HRHCare clients can reap the many health benefits of farm fresh eating.  
Beyond these Local Food for Every Table efforts, we are also pleased to be partnering with a number of other organizations on some related efforts: 
We've partnered with the Cold Spring Farmers Market to gather donations from home growers for aggregation and distribution to local hunger relief outlets, including Fred's Pantry, Philipstown Food Pantry and Second Chance Foods. Check it out on Facebook!
We've partnered with Land to Learn to launch a food sovereignty project called Q Gardens, which is providing raised bed garden vegetable kits to local organizations and families so they can grow more of their own food during COVID.  Read more here. 
To learn more about all of these projects, we invite you to join us on Thursday September, 10th at 6pm for our first (and hopefully last) online UnGala.  Learn more, register for free and make a contribution to support this work here.  
Back to News & Notes