Maddie Morley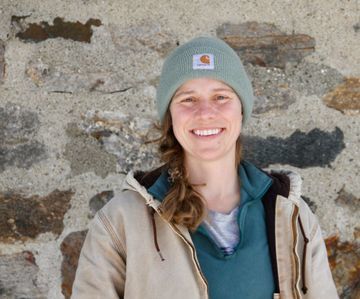 Maddie first joined Glynwood in 2013 as a Livestock Apprentice and returned as the Assistant Livestock Manager in February 2022. In her role, Maddie works closely with the Livestock Farm Manager to care for Glynwood's Animal Welfare Approved, multi-species operation. She also assists in teaching and guiding the daily work of the farm's livestock apprentices and volunteers.
Maddie started her farming career in 2011 as an apprentice at the University of California Santa Cruz Farm and Garden. She moved to the Hudson Valley in 2013 to apprentice at Glynwood. Maddie worked on a few local farms before founding Grass + Grit Farm in 2016 with her partner Ben Roberts through Glynwood's Hudson Valley Farm Business Incubator program. Most recently, Maddie managed the transition of a conventional beef and hay farm to regenerative agricultural practices.
In addition to farming, Maddie has worked in operational capacities for food and agriculture companies and organizations, including the National Young Farmers Coalition and The Farm Bridge. Maddie holds a B.A. in economics and environmental studies from the University of Michigan in Ann Arbor.